PLATFORM TECHNOLOGY
ENDOTHELIAL DYSFUNCTION
ENDOTHELIAL DYSFUNCTION
Endothelial dysfunction (ED) is an early pathogenic feature of cardiovascular morbidities, consisting of impaired vasodilation, angiogenesis and barrier function.
It has been related to metabolic diseases such as diabetes mellitus, obesity or metabolic syndrome all of them also associated with cardiovascular diseases.
The key role of oxidative stress and inflammation in the pathogenesis of ED is well established. 
Pathological status
Healthy Endothelium

Endothelial Dysfunction

Adapted from Frontiers in Medicine (2022)
Disease
Since endothelial dysfunction is related to blood vessels, and blood vessels run through the body, Endothelial Dysfunction is systemic and is closely associated with many diseases, such as retinopathy, and cardiovascular and cerebrovascular disease.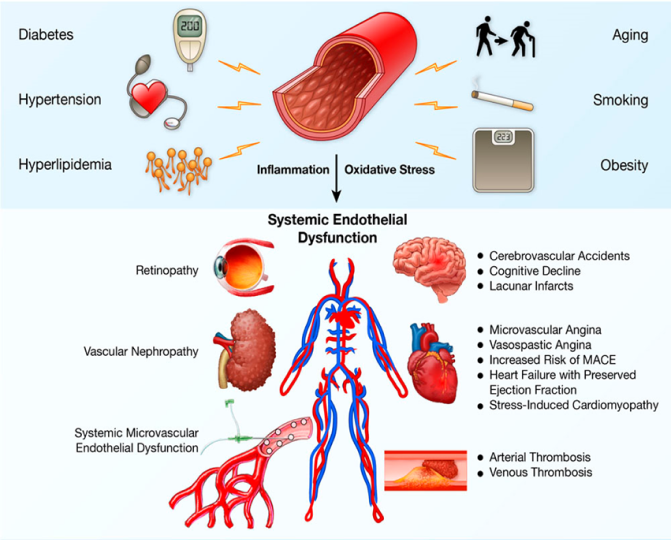 Source: Arteriosclerosis, Thrombosis, and Vascular Biology (2019)
Current treatment
The current treatment strategy focuses on a single target or dual targets at most. That single target could be a cytokine, as in the case of Anti-TNF or different enzymes, etc.
Highly effective protector of endothelial dysfunction working independently on multiple mediators.
Indication
MOA
Diabetic macular edema
Anti-VEGF
Anti-VEGF & Ang 2 inhibitor
Myocardial infarction
P2Y12 platelet inhibitor
HMG-CoA reductase inhibitor
factor Xa inhibitor
Stroke
P2Y12 platelet inhibitor
HMG-CoA reductase inhibitor
Ulcerative colitis
5-ASA
Anti-TNF
JAK inhibitor